What role does the new generation play in the development of the human structure of a metropolis?
Richard Sennet speaks in his new book "Building and Dwelling" about the importance of understanding and observing life in a city through the eyes of young urbanites. To see this in practice, Ravenkop has visited Nairobi, the second fastest growing city in Africa. In Nairobi we came into contact with the boys from Nai Nami. Having spent their youth on the streets, they allowed us to walk with them through the alleys and squares of Nairobi to hear about their experiences and to observe the city through their eyes.
An impressive trip from elegant offices and shopping centers to local markets and residential areas of those who are less well off. We were introduced into the ways in which they managed to build a life for themselves in Nairobi after years of wandering. How they experience the city. What they can contribute to the city and what challenges they face in doing so. A special way to feel the skewed relationships in the city and to see the influence of rapid urbanization from a different perspective.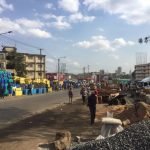 Next →